Battle of York Bay,
September 28, 1813 Lake Ontario, Upper Canada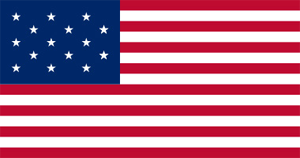 American Forces Commanded by
Commodore Issac Chauncey
| | | | |
| --- | --- | --- | --- |
| Strength | Killed | Wounded | Missing/Captured |
| ? | ? | ? | ?? |
British Forces Commanded by
Adm. Sir James Yeo
| | | | |
| --- | --- | --- | --- |
| Strength | Killed | Wounded | Missing/Captured |
| ? | ? | ? | ?? |
Conclusion: American Victory
On September 25, Commodore Issac Chauncey reported a rumor that Capt. Oliver H. Perry had captured the entire British flotilla on Lake Erie. The next day, he learned that the British Ontario squadron was at York, and on September 27, he sailed in that direction. As usual, USS General Pike, USS Madison, and the USS Sylph each towed a schooner.
On September 28, when Chauncey's ships were coming in before the wind, the British sailed out of York Bay to meet them. As Chauncey bore down on the British center, they tacked in succession. In the cannonade, the HMS Wolfe's mizzen and main topmasts were carried away. Yeo tried to save Wolfe by running before the wind for Burlington Bay, with HMS Royal George protecting his rear. The Americans pursued with its schooners still in tow and were soon outdistanced.
At 2:45 P.M., the Americans gave up the chase. Meanwhile, one of General Pike's heavy guns had burst, killing and wounding 22 men and tearing up the deck. Also, the American ships had suffered a good deal in the riggings. Finally, the wind had risen to gale strength and was blowing straight into the western shore.
For the reasons, even though the portion of Burlington Bay where Yeo sought refuge was not defended by any shore cannon, Chauncey decided not to follow him in.
After this fight, a firm American superiority was established on Lake Ontario. It helped to make the British cause in the West more precarious.
Site Map
| Copyright © 2012
USwars.com
,