Captain Isaac Chauncey
Isaac Chauncey was born February 20, 1722 in Black Rock, Connecticut and died on January 27, 1840 in Washington, D.C.. He was a American navy Officer during the War of 1812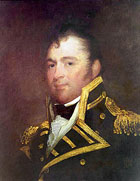 NAME
Chauncey, Isaac
BORN
February 20, 1722
Black Rock, Connecticut
DIED
January 27, 1840
Washington, D.C.
NAVY
American
Chauncey was born to Wolcott and Ann Brown Chauncey, a lineal descendant of Charles Chauncey, the second president of Harvard University.
Chauncey entered the merchant marine as a young man and received his first command, on the the privately-owned ship Jenny, while only 19 years of age. Joining the navy in 1799, he was appointed 1st lieutenant of the frigate USS President and served in a number of other capacities. On this ship, he served with Commodore Thomas Truxtun in the West Indies during the last Quasi-War with France.
In 1801, Chauncey was placed sixth on the permanent list of lieutenants. He participated in the Tripolitan War from 1802-05 as acting commander of the flagship USS Chesapeake and later as the commander of the frigates USS New Chesapeake and USS John Adams. Promoted to the rank of captain in 1806, he was furloughed to take command of the merchant ship USS Beaver on a voyage to China, and there again demonstrated his bravery in the face of a British warship's efforts to examine his crew for possible impressment.
In Commodore Preble's attack on Tripoli, August 22-29, 1804, he served on the flagship USS Constitution and was commended by Preble. After that, his promotions were virtually guaranteed. He became master-commander on May 18, 1804 and captain on April 24, 1806. On furlough after this last promotion, he traveled to the West Indies on a vessel belonging to John J. Astor.
From 1807-12, Chauncey had command of the New York Navy Yard. This duty brought security and a house for his family as well as a network of rich acquaintances from his work procuring supplies.
Following Brig. Gen. William Hull's disaster at Detroit in August 1812, Chauncey was appointed commander of Lake Ontario and Lake Erie in September 1812 and worked to recruit men; hire shipwrights, riggers, and blacksmiths; and develop supply contacts. He persuaded the crew of the USS John Adams to volunteer en massa and eventually arrived at Sackett's Harbor with 700 sailors and shipwrights. He worked effectively with Lt. Melancthon T. Woolsey to procure a small squadron of converted merchant schooners. Led by the brig USS Oneida, the construction of which Woolsey had supervised in 1808, this squadron had seized command of Lake Ontario from the ineffective Canadian Provincial Marine by November 1812. Chauncey had already contracted with New York shipwright Henry Eckford to build the ship USS Madison. Finished in 45 days and launched in November, she commanded Lake Ontario by ther end of 1812.
In April 1813, Chauncey supported Brig. Gen. Henry Dearborn's invasion of York with the USS Madison, USS Oneida, and 14 schooners, some heavily armed with 9 and 10 guns., He then transported Dearborn's army to the attack on Fort George in May. Upon his return to Sackett's Harbor, Chauncey found that his base had been attacked by his British naval counterpart, Capt. Sir James L. Yeo and the British Army's Kingston garrison. In essence, Yeo had seized the initiative and effectively neutralized Chauncey's support of the U.S. Army in the Upper Niagara peninsula by attacking and capturing his supply boats at Forty Mile Creek.
For the rest of the war, Yeo and Chauncey maneuvered around each other on Lake Ontario. Under these circumstances, the two commodores played an intricate cat-and-mouse game. It seems that each commander wanted to wait for the perfect moment to strike. This combination of circumstances however, never materialized. Yeo's fleet was smaller and heavily armed with short-range carronades while Chauncey's ships were armed largely with long guns. To quote James L. Mooney: "both commanders suffered from a common naval malady, fearing defeat more than they desired victory."
Toward the end of 1813, Chauncey was initially ordered to support the intended invasion of Kingston by Maj. Gen. James Wilkinson's army. When the plans changed the target to montreal, he successfully escorted Wilkinson down the St. Lawrence River. After internal fueding and administration vacillation ended this invasion with both armies in winter camp, Chauncey was informed that Sackett's Harbor and his squadron there would not have any protection unless he brought Maj. Gen. William H. Harrison's army down the lake from Fort George. Braving terrific gales and blinding snowstorms, his squadron executed a masterful removal of Harrison's army. The entire episode embittered Chauncey, however, and from it grew his contempt for army commanders who wished to use his ships merely as transports.
Chauncey was bested twice in August 1813. In September, he managed to trap Yeo's fleet in Burlington Bay, but using the excuse that he was not familiar with local water depth, Chauncey failed to follow through with an attack and let Yeo escape. After this close call, Chauncey organized a large-scale shipbuilding program, concentrated on building bigger and better ships, established a hospital, built a rope walk, and erected barracks for his sailors. Under him, Sackett's Harbor had become the largest American naval station, building more ships than any other naval yard in the country.
Over the winter of 1814-15, Chauncey visited New York and Washington, D.C. to finalize plans for mammoth line-of-battle ships and hired the New York shipbuilder Henry Eckford and Noah and Adam Brown to build them. One, named USS New Orleans after Maj. Gen. Andrew Jackson's victory, was planked and ready for launching when the Senate ratified the Treaty of Ghent in February 1815.
Chauncey was a skilled organizer, but he could not delegate responsibility effectively. He never appointed an officer to superintend the administrative affairs at Sackett's Harbor. Thus, myriad administrative details distracted him from his most important objective of destroying Yeo and dominating Lake Ontario. He lost sight of the strategy that to win the Upper province, his forces would have to smash British naval strength, and he was outdueled or outsmarted by Yeo on critical occasions.
After the war, Chauncey took command in 1815 of the USS Washington at Portsmouth, New Hampshire. Starting in 1816, he commanded, for 2 years, a squadron in the Mediterranean Sea, where he negotiated a treaty with Algiers. From 1822-24, he was one of 3 post-captains who made up the Board of Navy Commissioners in Washington. From 1825-32, he again commanded the New York Navy Yard, but in 1832, he returned to Washington as a navy commissioner and president of the Board. He commanded various ships and finished his career as a high-ranking navy administrator. His career in the U.S. Navy lasted from 1798-1840.
Chauncey married Catherine Sickels, and 2 of his sons, Charles W. and John S. Chauncey, became naval officers. He died in 1840, being buried at the Congressional Cemetery.
Books on
Isaac Chauncey
are available from Amazon.com
Site Map
| Copyright © 2012
USwars.com
,