Captain Sir James L. Yeo
? was born October 7, 1782 in Southhampton, England and died in 1818 off the coast of Africa. He was a British Navy Officer during the War of 1812. He held ramks of Lt., Commander, Capt..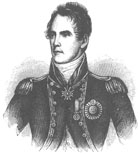 NAME
Yeo, James Lucas
BORN
October 7, 1782
Southhampton, England
DIED
1818
off the coast of Africa
NAVY
British
RANKS
Lt., Commander, Capt.
Yeo was the oldest son of James Yeo, sometime agent victualler to the Royal Navy at Minorca. After a brief schooling at Bishop's Waltham near Winchester, Hampshire, he joined the Royal Navy in March 1793 as a boy volunteer. He joined under Adm. Cosby, as a midshipman at the age of 10. He first saw action as a lieutenant aboard a brig in the Adriatic Sea.
In 1797, he was promoted lieutenant, and assigned to the HMS La Loire, under Capt. Frederick L. Maitland. While off the Spanish coast, he was sent to capture the Spanish vessels in the port of El Muros. Storming the fort, he succeeded in bringing out of the port every vessel, armed and unarmed. For this achievement, he was made commander, and given the HMS Confiance, one of the vessels he had taken. He distinguished himself during the siege of Cesenatico in 1800.
Yeo participated in several sea battles during the Napoleonic Wars so successfully that he was made a captain on December 19, 1807, by which time he had already been recognized as an intrepid practitioner of unconventional sea warfare.
In 1809, he captured Cayenne, in conjunction with the Portuguese, and was in consequence made post-captain, and received from the prince regent of Portugal a knight's commandery of St. Benito d'Avis, being the only Protestant ever so honored. He was placed in command of the British naval forces on Lake Ontario.
In 1810, Yeo was knighted for his services and 3 years later was sent to America to command the British naval forces in the Great Lakes during the War of 1812. His use of his small navy was always determined and skillful, but he was hampered by a lack of cooperation from the British army. On March 19, 1813, Yeo was appointed commodore and commander-in-chief on the lakes of Canada. He would discover that in the Canadas, his instinct for daring initiatives had to be disciplined in the interests of an imperious necessity: maintenance of control over Lake Ontario, the crucial link between the arsenal and dockyard at Kingston, Upper Canada, and the British force on the Niagara peninsula. On May 27, 1813, appeared off Sackett's Harbor on the HMS Wolf, 24 guns, with a squadron of 5 war-vessels, and about 40 bateaux, containing 1,200 troops under command of Gen. Sir George Prevost.
The timid commander of these forces, Prevost, failed to follow up key advances made by Yeo at Sackett's Harbor and elsewhere that might have resulted in major British victories. On the whole, historians regard the war on Lake Ontario as having been a draw.
In May 1814, Yeo again sailed out of Kingston harbor with an effective force of cruising-vessels, and 1,000 troops under Maj. Gen. Sir George Gordon Drummond. The capture of Oswego was the first fruits of the expedition. Subsequently, Yeo was blockaded for 6 weeks in Kingston Harbor by Capt. Isaac Chauncey, of the American navy, who had previously defeated him and his squadron in York Bay.
On October 15, Yeo once more sailed, on board the HMS St. Lawrence, pierced for 112 guns, and carrying over a 1,000 men, accompanied by 4 ships, 2 brigs, and a schooner, and henceforth was "lord of the lake." He did not deem it prudent, however, to attack Chauncey, who had retired to Sackett's Harbor, where a force of 6,000 men had been gathered. The lake being closed soon afterward by ice, no further hostilities followed, as the treaty of peace was signed in the following December.
After the war, Yeo returned to England. He held important commands on the West African and Caribbean stations, but saw no further action. On June 5, 1815 Yeo was appointed commander-in-chief on the west coast of Africa with special responsibility for the anti-slavery patrol, a congenial posting since he was a convinced abolitionist. He was to fly his broad pennant on the HMS Inconstant. It is a measure of his standing with the Admiralty that he received this position. By midsummer of 1815, the British Navy was being rapidly demobilized. He was not able to leave England for several weeks after his appointment, since he was required to testify at the court martial in mid August of those of his officers who had survived the battle of Lake Champlain. In the event all were honorably acquitted, responsibility for the disaster having been placed with Prevost.
Yeo's health having been already impaired by arduous service, he was unable to withstand the climate, and died while on the voyage home in 1818, returning from Jamaica to England. He died "of general debility" on board the HMS Semiramis, to which he had transferred in October 1817 while en route from Jamaica to England. Yeo was survived by his parents, sisters, and his only brother, Lt. George Cosby Yeo, who was killed in a shipboard accident in the spring of 1819.
Yeo was a brilliant officer whose selfless devotion to duty contributed in large measure to his early death.
Books on
Captain Sir James L. Yeo
are available from Amazon.com
Site Map
| Copyright © 2012
USwars.com
,