Major General Sir Issac Brock
Issac Brock was born June 6, 1769 in St. Peter's Port, Guernsey and died on October 13, 1812 in Queenstown, Upper Canada. He was a British Army Officer during the War of 1812.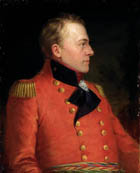 NAME
Brock, Issac
BORN
June 6, 1769
St. Peter's Port, Guernsey
DIED
October 13, 1812
Queenstown, Upper Canada
ARMY
British
RANKS
Lt., Capt., Maj., Lt. Col., Col., Maj. Gen.
Before the conflict with the United States began, Brock had never cared much for Canada. The vast, raw land with its complex web of people both native and new, often presented frustration rather than enchantment. For Brock, service in the colonies was seen only as a stepping stone to recognition, promotion, and greater adventures on the European continent. But America's declaration of war on Britain, and its outright vow to take Canada, changed Brock's mind. Ultimately, his fame and fate would become bound to a war fought in a far away colony.
Brock was born on the small English Island of Guernsey in 1769. He was the eighth son in the family and, following the example of 3 older brothers, decided early on to make a name for himself in the British army.
Brock joined the Eighth (King's) Regiment as an ensign in 1785, became a lieutenant in 1790, and was exchanged to the 49th Foot, where he became a captain, serving in Barbados and Jamaica. He purchased his majority in 1795 and a lieutenant colonelcy in 1797.
By the end of 1797, he was the senior lieutenant colonel in command of the 49th Regiment. He saw his first action in 1799 as part of Sir Ralph Abercromby's expedition to Holland and received a slight wound while leading a charge over the sand dunes. His regiment in 1801 was on board Nelson's fleet when the admiral attacked Copenhagen.
After serving with Admiral Nelson in Holland, Brock was ordered to bring his regiment to the Canadas where he arrived in 1802. Brock's capabilities as a commander were well known by this point. He was a demanding but fair and humane officer who had earned the sincere respect of his men. Brock's considerable military talents allowed him to fill many positions during his tenure in Canada. He commanded the garrison in Quebec and, after being made a major general in 1811, was assigned command of all troops in Upper Canada. Over these years, he frequently requested that he be allowed to return to Europe to fight in the war against Napoleon. Brock's stay was extended when Lieutenant Governor Francis Gore was called to England indefinitely and Brock became the administrator of Upper Canada.
Brock was always ready for a challenge, and by early 1812 was reinforcing defenses as well as courting many First Nations regarding a possible alliance. Being Upper Canada's administrator allowed Brock to amend the militia act in such a way as to make use of all possible volunteers and to step up training.
By the time war was declared, Brock had already set in motion the strategy that was to characterize his wartime command: make preparations early and take the initiative whenever possible. Despite Prevost's constant warnings not to go on the offensive, Brock knew that a cautionary stance would not gain him the backing of Upper Canada's settlers, let alone the crucial alliance with First Nations. He made plans to take the strategically important Fort Mackinac as soon as a war declaration was official. This move was a demonstration of commitment to the conflict on the part of the British, and that a British-First Nations force could work well together. These facts were not lost on many First Nations people who were being pressured to choose sides.
Brock was faced with the unenviable task of protecting a long border against American incursions, but unlike his superior, Gen. Sir George Prevost, overall commander of the forces in Canada, he believed the border to be defensible. He countermanded Prevost's orders to show restraint against the Americans by ordering Capt. Charles Roberts, commander of Fort St. Joseph, to attack Fort Michilimackinac.
The capture of Fort Michilimackinac on July 17, 1812, was the first reversal for the United States on the Canadian border and an impressive psychological blow against the American war effort. It also helped to win over the Indians of the Upper Lakes to the British-Canadian cause. Worse was to follow for the Americans as, within a month, Brock, in concert with Indian leader Tecumseh, aggressively countered Brig. Gen. William Hull's attempted invasion of Ontario by besieging Detroit. His ominous threat that if a battle began, he would not be able to control the Indians struck fear in the Americans.
Early on the morning of August 16, the combined British and Indian forces crossed the Niagara River and to their surprise, Hull surrendered without firing a shot. The victory helped bolster the morale of the people of Upper Canada who had previously experienced a wave of defeatism. The American threat from Michigan Territory and the Old Northwest was eliminated for almost a year, and valuable arms were captured from the American forces.
After Detroit, Brock hurried to the Niagara frontier intending to attack Sackett's Harbor and American naval vessels near Buffalo but Prevost blocked his initiative. Brock's momentum was disrupted when Prevost signed an armistice with the U.S. commander-in-chief Maj. Gen. Henry Dearborn. This gave the Americans much-needed breathing room and allowed them to prepare for their eventual strike in Canada along the Niagara River.
Not being able to predict where the Americans would try to invade, Brock did his best to prepare the defenses of the region. While waiting for the anticipated American invasion across the Niagara River, he strengthened the defenses of Forts Erie and George. When the invasion came at Queenston on the morning of October 13, 1812, he rushed out alone from Fort George to take command of the battle and was among the soldiers repulsed from the Heights by an American attack. Remaining true to his word that he would never ask his men to go where he would not lead them, Brock led 2 disastrous attempts to regain the guns during which he was shot.
A conspicuous target at over 6-feet tall, the aggressive Brock was hit by a single musket ball in the chest and died almost immediately. His aide de camp, Lt. Col. John Macdonell, led a second British charge but was killed as well.
Maj. Gen. Roger Sheaffe succeeded to Brock's command and turned the battle in the British favor. Brock had died but his heroism was remembered.
Books on
Issac Brock
are available from Amazon.com
Site Map
| Copyright © 2012
USwars.com
,