Lieutenant General Sir Edward Pakenham
? was born April 19, 1778 in County Westmeath, Ireland and died on January 8, 1815 in New Orleans, Louisiana. He was a British Army officer during the War of 1812.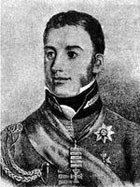 NAME
Pakenham, Edward
BORN
April 19, 1778
County Westmeath, Ireland
DIED
January 8, 1815
New Orleans, Louisiana
ARMY
British
RANKS
Lt., Capt. Maj., Brig. Gen. Maj. Gen., Lt. Gen.
Pakenham was born into a prominent family of the Anglo-Irish aristocracy in 1778. He entered the military at a young age, rising quickly through the ranks due to the right combination of innate ability and aristocratic background. He was not yet 17 years old by the time he attained the rank of major in the Ulster Light Dragoons.
Pakenham saw action throughout the wars of the French Revolution and was part of the expedition that captured the island of St. Lucia in 1803, during which he sustained a serious neck wound. During this period, the tall and handsome Pakenham established a reputation as a model gentleman soldier; respectful, mannered and highly esteemed by his fellow officers. Pakenham's image was further enhanced when Arthur Wellesley, the soon-to-be Duke of Wellington, married his sister in 1806.
Pakenham served with distinction under his brother-in-law in the Peninsular Campaign against Napoleon from 1810 on. His successful leadership in battle had earned him the rank of major general within a year. Other victories followed, such as at the Battle of Salamanca in 1812 and the Battle of the Pyrenees in 1813. For his accomplishments in these engagements, Pakenham was knighted in Bath, England in late 1813.
When the news of Maj. Gen. Robert Ross's death reached England in October of 1814, a replacement commander for the New Orleans campaign had to be found. Though he was opposed to the war with the United States, Pakenham accepted command of the British North American army and left almost immediately for Jamaica where he was to rendez-vous with more British forces before moving on to the Gulf Coast. Heavy winds delayed Pakenham's crossing and he reached Jamaica only after Vice Adm. Alexander Cochrane had already departed for New Orleans to commence operations.
Pakenham finally made it to the British advance camp, 7 miles below New Orleans at the Villere Plantation, on December 25, 1814. He showed leadership and determination in bringing forward the large pieces of British artillery over difficult terrain, but the operation was plagued by a long, inefficient supply line, a lack of intelligence reports, and bitter weather.
Pakenham finally decided to mount a 2-pronged attack on the Americans positioned on both sides of the Mississippi River. But Pakenham failed to hold back his assault on Maj. Gen. Andrew Jackson's line until Col. ?? Thornton had taken the American guns on the West bank. It was a fatal mistake. In an attempt to rally his troops near the enemy line, grapeshot from US artillery shattered his left knee and killed his horse. As he was helped to his feet by his senior ADC (aide-de-camp), Major Duncan MacDougall, Pakenham was wounded a second time in his right arm. After he mounted MacDougall's horse, more grapeshot ripped through his spine, fatally wounding him, and he died as he was carried off the battlefield at the age of 36. His last words were reputed to be telling MacDougall to find General Lambert to tell him to assume command and send forward the reserves. Within minutes, Pakenham died, his last words being, "Lost for the lack of courage." The battle ended in defeat for the British. The American commander was Major General Andrew Jackson, who would go onto become the President of the United States. A general ceasefire had already been declared by the Treaty of Ghent, signed on December 24, 1814, but news of the peace did not reach the combatants until February, several weeks after the battle.
His body was returned in a cask of rum and buried in the Pakenham family vault in Killucan in Westmeath, Ireland. General Pakenham was also known for a surly temper when annoyed and a relative was recorded as remarking "The General has returned home in better spirits than he left." In memory of the fallen Pakenham, the British public raised funds to erect a life-sized statue in his honour. It stands today in the South Transept of St. Paul's Cathedral in London.
Books on
Edward Pakenham
are available from Amazon.com
Site Map
| Copyright © 2012
USwars.com
,