General Phineas Riall
Phineas Riall was born December 15, 1775 Clonmel, Ireland and died on November 10, 1850 Paris, France. He was a British Army officer during the War of 1812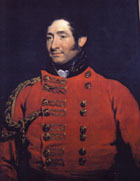 NAME
Riall, Phineas
BORN
December 15, 1775
Clonmel, Ireland
DIED
November 10, 1850
Paris, France
ARMY
British
The stocky, impetuous Irishman, Phineas Riall first arrived in Canada in July of 1813. He had joined the British army as a lieutenant 20 years earlier and, through a combination of hard work and money, had risen to become a major general just prior to landing in Canada.
Though he was known as a brave and bold officer, his campaigning experience was limited to minor affairs in the West Indies. In spite of this, the 38 year-old Riall was to be second in-command of Lt. Gen. Gordon Drummond's forces in the volatile Niagara region.
Riall and Drummond went on the offensive late that same year, recapturing Fort George from the Americans in December and took the American fort of Niagara as well. In retaliation for the American burning campaign that began in Newark, Riall devastated Lewiston and the Tuscarora village before recrossing to Canada.
In the last days of 1813, Riall continued these retaliatory measures by burning Buffalo and nearby Black Rock. He was in Fort George the following summer when the Americans invaded Canada at Fort Erie. Two days later, he moved his forces north of the Chippawa River in an attempt to counter the advancing Americans. He underestimated both the numbers and capabilities of Brig. Gen. Winfield Scott's men, and did not call for available reinforcements. His army had to retreat from the Americans on the battlefield at Chippawa and fortunately, had a well-protected position to withdraw to.
Riall eventually returned his men to Fort George to regroup and plan another foray against the Americans. With Maj. Gen. Gordon Drummond on his way from York to take command, Riall took no chances calling on both the militia and reserves from Burlington Heights. It was this force that he brought forward again to meet the Americans and was attacked by Scott's army at Lundy's Lane. Initially, he ordered a retreat when Drummond arrived with his troops but the battle was already engaged. Riall was severely wounded in the arm early on in the battle, and was being transported to the rear when his party was captured by an advanced American unit. After the battle, he was evacuated to Buffalo where his arm had to be amputated.
Ironically, Riall spent weeks convalescing in the same room as the injured Scott. For both men, the war was over. Due to his uncommonly high rank, it wasn't until December that he was exchanged back to Canada.
Riall returned to England after peace was concludedand on February 18, 1816, he was appointed Lieutenant Governor of Grenada, a post he held until 1823. Thereafter, he appears to have seen very little service, although he was knighted in 1833 and eventually became full General on November 23, 1841. He died peacefully in Paris in 1850.
General Sir Phineas Riall - By Major John Grodzinski
Phineas Riall is perhaps best known to students of the War of 1812 as the commander of the British Right Division in Upper Canada from the fall of 1813 until his capture by American forces at Lundy's Lane on 25 July 1814. Details of his service however, are not as well known.
Phineas Riall was born in Ireland on 15 December 1775 and entered the army as an ensign in the 92nd Foot in January 1794 and be the end of the year attained the rank of major, through purchase in the 128th Foot, serving with that regiment until it was reduced in 1797. Riall remained on half-pay for the next seven years and in May 1800, Riall transferred to a majority with the 15th Foot.
Riall was with the 15th Foot in the West Indies in 1805 and in 1809 commanded a brigade at Martinique under the future commander in chief of British North America, Lieutenant General Sir George Prevost. Following this campaign, Prevost returned to Nova Scotia, but Riall remained for the attack on Guadeloupe, before returning to England in 1810.
In June 1813, Riall was promoted to major general by seniority and sent to Canada, firstly in command of the troops around Montreal and then to replace John Vincent as commander of the Right Division, a geographic command extending from the Niagara River to Kingston.
During the winter of 1813 and 1814, Riall commanded forces during the Lieutenant General Drummond's Winter Campaign, aimed at clearing American forces from the Canadian side of the Niagara River and wreaking havoc along the American shore in retaliation for the destruction of Newark by forces under U.S. command. In the latter part of December 1813, Riall commanded the raids on Lewiston, Manchester, Black Rock and Buffalo.
During 1814, Riall was the first British formation commander to oppose Major General Jacob Brown's Right Division. At Chippawa, his improperly conducted reconnaissance of the American camp resulted in his underestimating the quality of the troops he faced and he was defeated there on 5 July 1814.
As Brown advanced north, Riall instructed the garrison at Fort George to hold firm, while he withdrew Burlington Heights. When Brown later retired to Chippawa, Drummond ordered Riall to move forward. It was during this time that he reorganized his command into a field division of four brigades.
General Sir Phineas Riall
On 25 July 1814, when Brown renewed his advance northward, Riall retreated from his position at Lundy's Lane, but was then ordered to reoccupy that position. During the early stage of the battle, Riall went forward to stabilize the British left flank, during which time he was severely wounded in the right arm. While riding back, Riall was surrounded by soldiers belonging to Captain Daniel Ketchum's company of the 25th U.S. Infantry and along with Canadian Captain Hamilton Merritt and Captain Robert Loring, one of Drummond's aides, became a prisoner of war. Efforts to convince Major Thomas Jesup, commander of the 25th Infantry to allow him to seek medical aid from his surgeon proved fruitless and Riall was escorted to the rear of the American position.
Riall was eventually confined in Massachusetts and was returned to England on parole in December 1814. He never held an active command, but was governor of Grenada from 1816 to 1823. In November 1841, he rose to the rank of general through seniority. Riall was knighted in 1833 and passed away in Paris on 10 November 1850.
Books on
Phineas Riall
are available from Amazon.com
Site Map
| Copyright © 2012
USwars.com
,