Brigadier General William H. Harrison
William H. Harrison was born February 9, 1773 in Berkeley Plantation, Virginia and died on April 4, 1841 Washington, D.C.. He was a American Army Officer during the War of 1812 and later President of the United States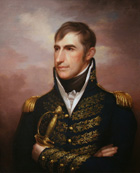 NAME
Harrison, William Henry
BORN
February 9, 1773
Berkeley Plantation, Virginia
DIED
April 4, 1841
Washington, D.C.
ARMY
American
Harrison first gained national fame as a war hero, defeating American Indians at the Battle of Tippecanoe in 1811 and earning the nickname "Tippecanoe" (or "Old Tippecanoe"). As a general in the subsequent War of 1812, his most notable contribution was a victory at the Battle of the Thames, which brought the war in his region to a successful conclusion.
When Harrison took office in 1841 at the age of 68, he was the oldest man to be elected President at the time, a record that stood for 140 years. Harrison died exactly one month into his term—the briefest presidency before or since. He was also the first president to die in office.
Harrison was born into a prominent political family, the third son of Benjamin Harrison V and Elizabeth Basset. His father was a Virginia planter who served as a delegate to the Continental Congress from 1774–77, signed the Declaration of Independence, and was Governor of Virginia from 1781–84. William Henry Harrison's brother, Carter B. Harrison, later became a member of the United States House of Representatives, representing Virginia.
Harrison briefly attended several colleges, including Hampden-Sydney College, with the intention of becoming a physician. His father's death in 1791 left Harrison without money for further schooling and so, at the age of 18, he was commissioned as an ensign in the U.S. Army. He was sent to the Northwest Territory, where he spent much of his life. Harrison served as aide-de-camp to Gen. "Mad Anthony" Wayne, from whom he learned how to successfully command an army on the American frontier. Harrison participated in Wayne's decisive victory at the Battle of Fallen Timbers in 1794, which brought the Northwest Indian War to a close. Lieutenant Harrison was one of the signers of the Treaty of Greenville in 1795, which opened much of present-day Ohio to settlement by white Americans.
Harrison resigned from the Army in 1798 to become Secretary of the Northwest Territory, and acted as governor when Governor Arthur St. Clair was absent. In 1799, Harrison was elected as the first delegate representing the Northwest Territory in the Sixth United States Congress, serving from March 4, 1799, to May 14, 1800. As delegate, he successfully promoted the passage of the Harrison Land Act, which made it easier for people to purchase land for settlement in the Northwest Territory. Harrison resigned from Congress to become governor of the newly formed Indiana Territory, a post he held for 12 years, until 1813.
A primary responsibility as territorial governor was to obtain title to Native American lands so that white settlement could expand in the area and the region could attain statehood. Harrison oversaw numerous treaties, purchasing much of present-day Indiana from Native American leaders. Tensions, always high on the frontier, became much greater after the 1809 Treaty of Fort Wayne, in which Harrison secured the purchase of more than 2,500,000 acres of American Indian land. An Indian resistance movement against U.S. expansion had been growing around the Shawnee brothers Tecumseh and Tenskwatawa ("The Prophet"). Tecumseh called upon Harrison to nullify the Treaty of Fort Wayne, warned against any whites moving onto the land, and continued to widen his Indian confederation.
In 1811, Harrison was authorized to march against the confederacy, winning his famous victory at Prophetstown. During the War of 1812, Harrison took command of the Army of the Northwest. He won victories in Indiana and Ohio before invading Canada and crushing the British at the Battle of the Thames, in which Tecumseh was killed. Harrison subsequently resigned from the army because of ongoing disagreements with Secretary of War John Armstrong.
After the war, he was elected to various political offices, including the U.S. House of Representatives from Ohio, serving from 1816-19. He was defeated as a candidate for governor of Ohio in 1820, but served in the Ohio State Senate from 1819-21. In 1824, he was elected to the U.S. Senate, where he served until May 20, 1828, when he resigned to become Minister to Colombia from 1828-29. Harrison was a tall man, and when in Congress he was referred to by fellow westerners as a Buckeye, as were other tall pioneers on the Ohio frontier, as a term of endearment in respect of the Buckeye chestnut tree.
Harrison was the Northern Whig candidate for President in 1836, but lost the election to Martin Van Buren. He was the candidate again in the 1840 election, winning a landslide victory largely because of his heroic military record and the fact that the United States had suffered a severe economic downturn. His vice president was John Tyler, and their campaign was marked by exaggeration of both Harrison's military exploits and of his connections to the common man. Harrison and Tyler's campaign slogans of "Log Cabins and Hard Cider" and "Tippecanoe and Tyler too" are among the most famous in American politics.
As Harrison arrived in Washington he focused on showing that he was still the stalwart hero of the Battle of Tippecanoe he had campaigned as. He was to take the oath of office on March 4, 1841, an extremely cold and windy day. Nevertheless, he faced the weather without his overcoat, delivering his inaugural address. He subsequently caught a cold, which developed into pneumonia and pleurisy. His doctors tried everything to cure him, but the treatments only made Harrison sicker and weaker until he went into delirium.
He passed away a month later at 12:30 A.M. on April 4, 1841 of right lower lobe pneumonia, jaundice, and overwhelming septicemia, becoming the first American president to die in office. His last words were "Sir, I wish you to understand the true principles of the government. I wish them carried out. I ask nothing more." Harrison served the shortest term of any American president, a total of only 32 days and 12 hours and 30 minutes. John Tyler succeeded him shortly thereafter. According to later legends, Harrison's death was brought about by a curse placed on him by Tecumseh in his dying breath.
Harrison's son, John S. Harrison, was also elected to the U.S. House of Representatives from Ohio from 1853-57. Harrison's grandson, Benjamin Harrison of Ohio, became the 23rd president in 1889, making them the only grandparent-grandchild pair of presidents to date.
In 1889, President Benjamin Harrison gave his inaugural address in the rain. Understanding his grandfather's mistakes, he asked his outgoing predecessor, Grover Cleveland, to hold an umbrella above his head, delivering the longest inaugural address since his grandfather's.
Books on
Brigadier General William H. Harrison
are available from Amazon.com
Site Map
| Copyright © 2012
USwars.com
,