Francis Scott Key
Francis Scott Key was born August 1, 1779 in Carroll County, Maryland and died on January 11, 1843 in Baltimore, Maryland. He was a American Lawyer during the War of 1812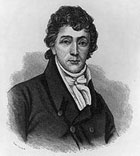 NAME
Key, Francis Scott
BORN
August 1, 1779
Carroll County, Maryland
DIED
January 11, 1843
Baltimore, Maryland
Francis Scott Key was born to Ann Phoebe Penn Dagworthy (Charlton) and Captain John Ross Key at the family plantation Terra Rubra in what was Frederick County and is now Carroll County, Maryland. His father John Ross Key was a lawyer, a judge and an officer in the Continental Army. His great-grandparents were Philip Key and Susanna Barton Gardiner, both born in London, England, immigrated to Maryland in 1726.
He studied law at St. John's College, Annapolis, Maryland and also learned under his uncle Philip Barton Key.
After the American defeat at the Battle of Bladensburg and the British occupation and retreat from Washington, D.C., in late August 1814, Key was given the mission along with American Agent for Prisoner Exchange Col. John Stuart Skinner to secure the release of Dr. William Beanes of Upper Marlboro. He was being held under arrest by the British. Beanes had been detained by the British on board HMS Tonnant, flagship of Adm. Sir Alexander Cochrane, after he had detained some British stragglers during the British retreat back to their shipping on the Patuxent.
Key and Skinner sailed from Baltimore on September 3, south down the Bay to try to locate the British fleet, finding it on September 7 near the British base of Tangier Island, Virginia. Skinner successfully negotiated the release of Beanes but the 3 men were kept on board their truce boat while the British fleet sailed up the Bay to attack Baltimore.
Forced to witness the bombardment of Fort McHenry on September 13-14, Key was moved to write on the back of an envelope, a poem that he titled, "Defence of Fort McHenry." On returning to Baltimore on September 14, Key's brother-in-law, Judge Joseph Nicholson, sent the poem to be set in print at the offices of the Baltimore American by a young printer's apprentice, Samuel Sands. Days later, the poem was set to the music of a British drinking song, "To Anacreon in Heaven" and sung for the first time at the Holliday Street Theatre in Baltimore by an actor named Hardinge. In March 1931, this same song would become the National Anthem of the United States under an act signed into law by President Herbert Hoover.
After the War of 1812, Key pursued his career in the legal profession, sharing offices in Frederick, Maryland, with brother-in-law future Supreme Court Justice Roger Brooke Taney. In his later years, Key served as U.S. District Attorney for Washington, D.C., arguing a number of cases before the U.S. Supreme Court.
Key died in Baltimore at a house owned by his wife Mary's family, the Howards, in Mount Vernon Place, Baltimore. In all, Key and his wife Mary had their 6 sons and 5 daughters.
Books on
Francis Scott Key
are available from Amazon.com
Site Map
| Copyright © 2012
USwars.com
,