Major General Henry Dearborn
Henry Dearborn was born February 23, 1751 in North Hampton, New Hampshire and died on June 6, 1829 in Roxbury, Massachusetts. He was a American Army Officer during the War of 1812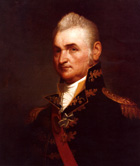 NAME
Dearborn, Henry
BORN
February 23, 1751
North Hampton, New Hampshire
DIED
June 6, 1829
Roxbury, Massachusetts
ARMY
American
Dearborn was an American physician, statesman and veteran of both the Revolutionary War and the War of 1812. He spent much of his youth in Epping, New Hampshire, where he attended public schools. He studied medicine and opened a practice in Nottingham Square, New Hampshire in 1772. He was a physician and became a captain of militia.
When fighting in the Revolutionary War began, he organized and led a local militia troop of 60 men to Boston where he fought at Battle of Bunker Hill as a captain in Col. John Stark's 1st New Hampshire Regiment. He then volunteered to serve under Gen. Benedict Arnold during the ill-fated American expedition to Quebec.
Dearborn was captured on December 31, 1775, during the Battle of Quebec and detained for a year. He was released on parole in May 1776, but he was not exchanged until March 1777. After fighting at Ticonderoga, Freeman's Farm, and Saratoga, he joined Gen. George Washington's main army at Valley Forge as a lieutenant colonel where he spent the winter of 1777–78. He fought at the Battle of Monmouth in 1778, and in 1779, he accompanied Maj. Gen. John Sullivan on the Sullivan Expedition against the Iroquois in upstate New York. He joined Washington's staff in 1781 as deputy quartermaster general with the rank of colonel, and was present when Cornwallis surrendered after the Battle of Yorktown.
In June 1783, he received his discharge from the army and settled in Kennebec County, Maine, then part of Massachusetts, where he worked as a U.S. marshal for the District of Maine. He represented this district as a Republican in the Third and Fourth Congresses from 1793-97. As Secretary of War, from 1801–09 under President Thomas Jefferson, he helped form the plan for removal of the Native Americans beyond the Mississippi River.
At the outbreak of the War of 1812, he was appointed collector of the port of Boston by President James Madison in 1809, a position he held until January 27, 1812, when he was appointed senior major general in the U. S. Army in command of the northeast sector from the Niagara River to the New England coast. While Dearborn prepared plans for simultaneous assaults on Montreal, Kingston, Fort Niagara, and Detroit, the execution was imperfect. He did not move quickly enough to provide sufficient troops to defend Detroit and as a result, Maj. Gen. William Hull surrendered the city to Isaac Brock. Although Dearborn had minor successes at the capture of York on April 27, 1813, and at the capture of Fort George on May 27, his command was, for the most part, ineffective. He was recalled from the frontier on July 6, and reassigned to an administrative command in New York City. He was later appointed president of the court martial which tried and condemned General William Hull, even though Dearborn's own negligence contributed to Hull's defeat. Dearborn was honorably discharged from the army on June 15, 1815.
Madison nominated Dearborn for reappointment as Secretary of War, but the Senate rejected the nomination. He was later appointed Minister Plenipotentiary to Portugal by President James Monroe and served from May 7, 1822, to June 30, 1824, when, by his own request, he was recalled.
He retired to his home in Roxbury, Massachusetts, where he died 5 years later. He is interred in Forest Hills Cemetery, in Boston. Dearborn married 3 times: to Mary Bartlett in 1771, to Dorcas (Osgood) Marble in 1780, and to Sarah Bowdoin, widow of James Bowdoin, in 1813. Henry Alexander Scammell Dearborn was his son by his second wife.
Books on
Henry Dearborn
are available from Amazon.com
Site Map
| Copyright © 2012
USwars.com
,