Major General James Wilkinson
James Wilkinson was born March 24, 1757 in Calvert Co, Maryland and died on December 28, 1825 in Mexico City, Mexico. He was a American Army Officer during the War of 1812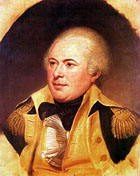 NAME
Wilkinson, James
BORN
March 24, 1757
Calvert Co, Maryland
DIED
December 28, 1825
Mexico City, Mexico
ARMY
American
Wilkinson was associated with several scandals and controversies. He fought in the Continental Army during the Revolutionary War, eventually rising to the rank of general. He was also the first governor of the Louisiana Territory.
Wilkinson was the second son of a respected Maryland merchant-planter. He received his early education from a private tutor and his study of medicine in Philadelphia at the University of Pennsylvania was interrupted by the American revolution.
He first served in Thompson's Pennsylvania rifle battalion, 1775–76, and was commissioned a captain in September 1775. He served under Col. Benedict Arnold in the Siege of Boston and at Montreal during the Invasion of Canada in 1775. He became an aide to Gen. Horatio Gates in early 1776 and served under Gen. George Washington in the battles at Trenton and Princeton. He was brevetted as major general from November 1777 to March 1778, and was concurrently secretary to the Board of War, January to March 1778.
During the Revolutionary War, he was a participant in the Conway Cabal, a conspiracy to replace George Washington with Horatio Gates as commander-in-chief of the Continental Army. Because of this, he was forced to resign his positions as brevet Major General and secretary. He then served as clothier general of the Army from July 1779 to March 1781.
He resigned from the army amid accusations of corruption. He became state assemblyman in 1783. He moved to the Kentucky District in 1784 and was active there in efforts to achieve independence from Virginia.
In March 1791, he led a force of Kentucky volunteers against Indians north of the Ohio River, and in October he received a commission to the U.S. Army as lieutenant colonel, commandant of the 2nd Infantry. He was promoted to brigadier general and served on the frontier under Gen. Anthony Wayne, commanding the right wing in the Battle of Fallen Timbers in August 1794. During this time, he secretly maintained contacts with the Spanish government and informed them of plans for Gen. George R. Clark to attack New Orleans in 1793-94. He was appointed commander at Detroit in 1796 and partially redeemed himself by rejecting entreaties to lead a rebellion in the Natchez, Mississippi area. Despite his treachery, upon Wayne's death, he became the senior officer of the U.S. Army from December 15, 1796 to July 13, 1798.
Wilkinson was transferred to the southern frontier in 1798 and was designated to treat with the regional Indian tribes. He was again the senior officer of the United States Army, from June 15, 1800 to January 27, 1812. Along with Governor William C. C. Claiborne, he shared the honor of taking possession of the Louisiana Purchase on behalf of the United States in 1803.
In 1805, U.S. President Thomas Jefferson appointed Wilkinson as the first governor of the newly organized Louisiana Territory. He was removed from this office after being publicly criticized for heavy-handed administration and abuse of power. Perhaps in an attempt to save himself, he betrayed Burr's plans to Thomas Jefferson. Wilkinson testified at Burr's trial, resulting in public accusations against him and two congressional inquiries of his private ventures and intrigues. President James Madison ordered his court martial in 1811. He was found not guilty on December 25, 1811.
Wilkinson was commissioned a major general in the War of 1812 and in March 1813, he and his soldiers occupied Mobile, Alabama. He was then assigned to the St. Lawrence River sector, after Maj. Gen. Henry Dearborn's reassignment. He led two failed campaigns (Battle of Crysler's Farm and Battle of La Colle Mill) and was relieved from active service, but he was cleared by a military inquiry. He published his memoirs, "Memoirs of My Own Times", in 1816 and visited Mexico in pursuit of a Texas land grant in 1821. While waiting for Mexican approval of his Texas scheme, he died in Mexico City where he was also buried. He is buried in Baptist Cemetery, Mexico City, Distrito Federal, Mexico.
Wilkinson married Ann Biddle of the famous Biddle family, in 1778 and had 4 children with her. After Ann's death on March 5, 1810, he married Celeste Laveau Trudeau, with whom he had 2 children.
Books on
James Wilkinson
are available from Amazon.com
Site Map
| Copyright © 2012
USwars.com
,