Major General Wade Hampton II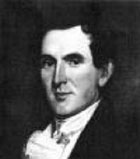 NAME
Hampton, Wade
BORN
April 21, 1791
Columbia, South Carolina
DIED
February 10, 1858
Columbia, South Carolina
ARMY
American
Wade Hampton II (April 21, 1791 – February 10, 1858) was an American plantation owner and soldier in the War of 1812. He was a member of the Hampton family, whose influence was strong in South Carolina politics and social circles for nearly 100 years.
He became a lieutenant of the dragoons in 1811, and was acting inspector general and aide to General Andrew Jackson at New Orleans, Louisiana, in 1815.
Hampton was born in Columbia, South Carolina, the son of General Wade Hampton I (1752–1835) and Harriet Flud. He married Ann Fitzsimmons on March 6, 1817, in Charleston, South Carolina, whose sister, Catherine Fitzsimmons, was the wife of James Henry Hammond. His son, Wade Hampton III, was a prominent Confederate cavalry general in the American Civil War, and a postbellum Governor of South Carolina.
His summer retreat, High Hampton, is on the National Register of Historic Places, as is his mansion in Columbia, South Carolina, the Hampton-Preston House, the ruins of his plantation house Millwoods.
He is interred in the churchyard at Trinity Episcopal Church in Columbia, South Carolina.
Books on
Wade Hampton
are available from Amazon.com